Phone
505-2BLADE1
505-225-2331

Your source for quality new and pre-owned used knives, such as: case, benchmade, spyderco, buck, kershaw, leatherman, gerber, crkt, old timer, uncle henry, schrade, victorinox, wenger, boker, swiss army, coleman, cobratec, sog, cold steel, david yellowhorse, wild horse and many more, including vintage knives and custom made knives for sale. Now selling Miniature knives as small as 1/2 inch.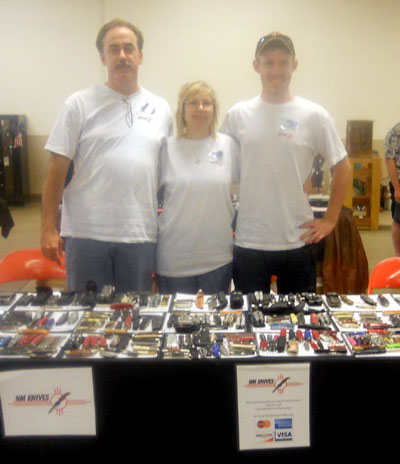 Who we are...

We are a family ran business of a Father, Mother and Son. I began collecting knives a few years back and found that I had many duplicates and ones I no longer desired. From that I began to sell these at the local flea market and have expanded to now try and buy / sell knives and hopefully begin to get to do this full time. I try to always make sure that my prices are lower than anywhere else, including ebay.

Over the years we have been able to gather a collection of good previously owned knives from the United States, Germany, Japan, etc. We attempt to only sell only quality New knives and try to find those that "Dad had one like this".

David


The most up to date and comprehensive list of Dates for all upcoming New Mexico Gun Shows can be found here.


Check out and Like our Facebook page to get the latest information and Coupons from nmknives.


Before you buy somewhere else, give me a chance to cut their prices, or Click Here to see our complete catalog and then contact me to get the price I can sell the knife at. Knives from over 700 different makers.


Please contact us by email if you have any questions or would like additional information.